As Artificial Intelligence is evolving at an incredible speed, offering new opportunities but also creating new challenges, it is of utmost importance to "keep an eye" on the future and the possible implications that the development and use of AI-based technologies could have on the society.
popAI acknowledged this need and dedicated some of this research to this aspect.
With a specific focus on the security domain and the role of such technologies in supporting LEAs' tasks, popAI elaborated a short-term and a long-term roadmap.
COMPLIANCE AND CERTIFICATION ROADMAP (short-term)
COMPLIANCE AND CERTIFICATION ROADMAP
The short-term roadmap – the Compliance and certification roadmap – investigates the compliance and certification landscape of AI technologies, stemming from the analysis of the existing legal framework and identifying gaps and barriers to the actual implementation of the AI Act across the EU.
The roadmap illustrates specific actions for LEA to be implemented as well as additional actions for policy officers; however, it is to be intended as a flexible approach that could be adjusted according to the future evolution of the context.
The short-term roadmap presented in the first part of this deliverable is structured in 6 steps.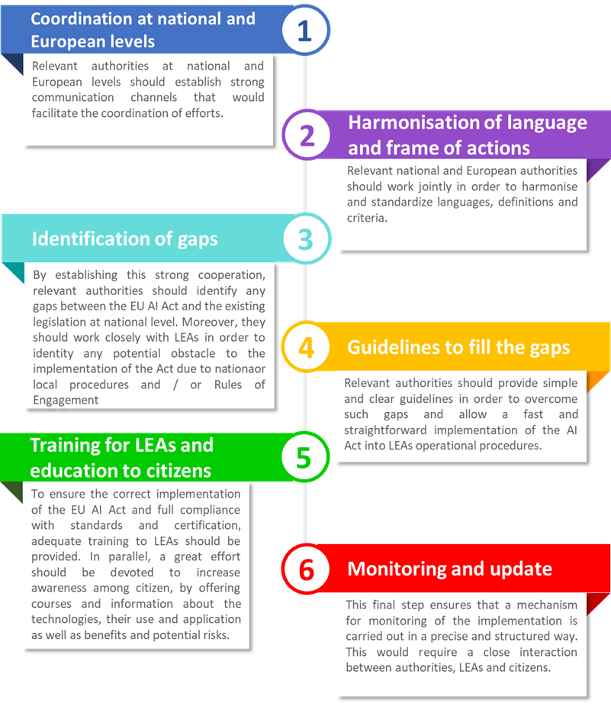 The full description of the certification and compliance roadmap is available in D5.8.
The 2040 roadmap is a long-term roadmap that looks into the next 20 years and aims to define potential scenarios and futures, related risks and possible strategies to tackle them.
The popAI 2040 roadmap is meant to be a guideline for future actions that may be adjusted should new needs emerge. It represents, indeed, "a policy and practice-oriented resource that will capture the contributions of the EU towards building better but also responsible, ethical and value-based AI tools for LEA use".
The roadmap is articulated into three strands, covering the key aspects related to AI-based systems and their employment in the security sector. The technological strand indicates actions that regard the development and/or testing of future technologies. The organisational strand suggests adjustments that should facilitate the introduction of AI systems into operational procedures while providing common frameworks and actions. The regulatory strand indicates relevant actions to undertake in order to ensure that the legislative framework keeps pace with the evolution of technologies as well as the emergence of new societal needs.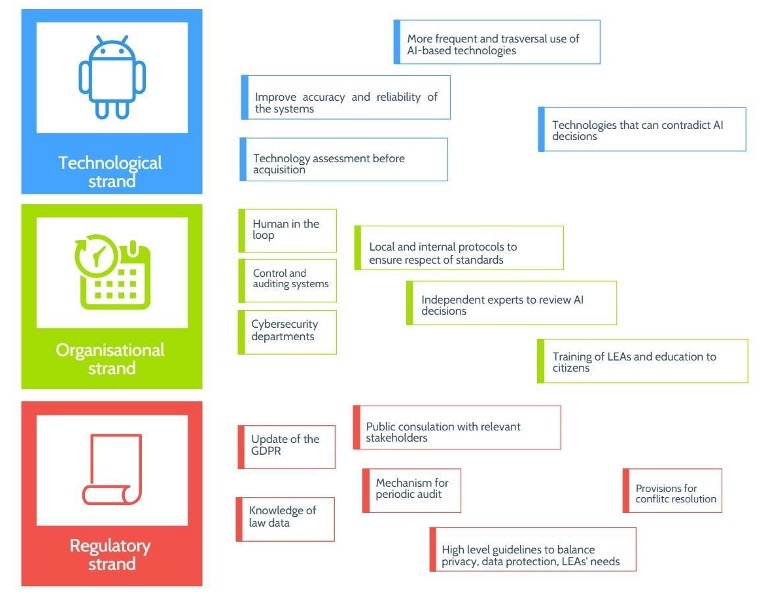 The full description of the 2040 roadmap is available in D5.8.