popAI joins RISE SD 2023 Conference in Rhodes, GR with sibling projects
The popAI project participated in the RISE SD 2023 Conference "Research and Innovation Symposium for European Security & Defense" which was held between 29 – 31 May 2023 on the island of Rhodes in Greece.
During the three-day event, the popAI project engagement with the community in numerous occasions:
On Wednesday 31 May, during the plenary session (10:10am, Delphi Amphitheatre) project coordinator Dr. Dimitris Kyriazanos of NCSR Demokritos will moderate the panel discussion ΑΙ for Civil Security: research directions, operational aspects, uptake, and barriers.
On Wednesday 31 May, Dr. Kyriazanos chair the Artificial Intelligence Session 8 (11:30am, Nafsika conf. room) and will also present along with Communication & Dissemination Lead, Paola Fratantoni of partner Zanasi & Partners at the workshop titled The popAI methodology for systemising knowledge on the ethical use of AI in Civil Security.
During the conference the popAI project will have a dedicated exhibition booth at the designated area with representatives from the consortium who will raise awareness about the project providing information to delegates and engaging with the security and defense community.
The event boasted an intense and ambitious program, welcoming top‐level speakers, roundtables and panels with experts from different backgrounds and expertise and was organised by Centre for Research & Technology Hellas (CERTH), Bulgarian Defence Institute and Satways in cooperation with several European R&D projects of Horizon (2020 & EU), European Defense Fund (EDF), and the Internal Security Fund (ISF).
The conference was a precious opportunity for research projects to disseminate their results and create further synergies with the research community. The audience included high-level representatives of the EU, governmental representatives, researchers, industry, practitioners, and European security and defense stakeholders.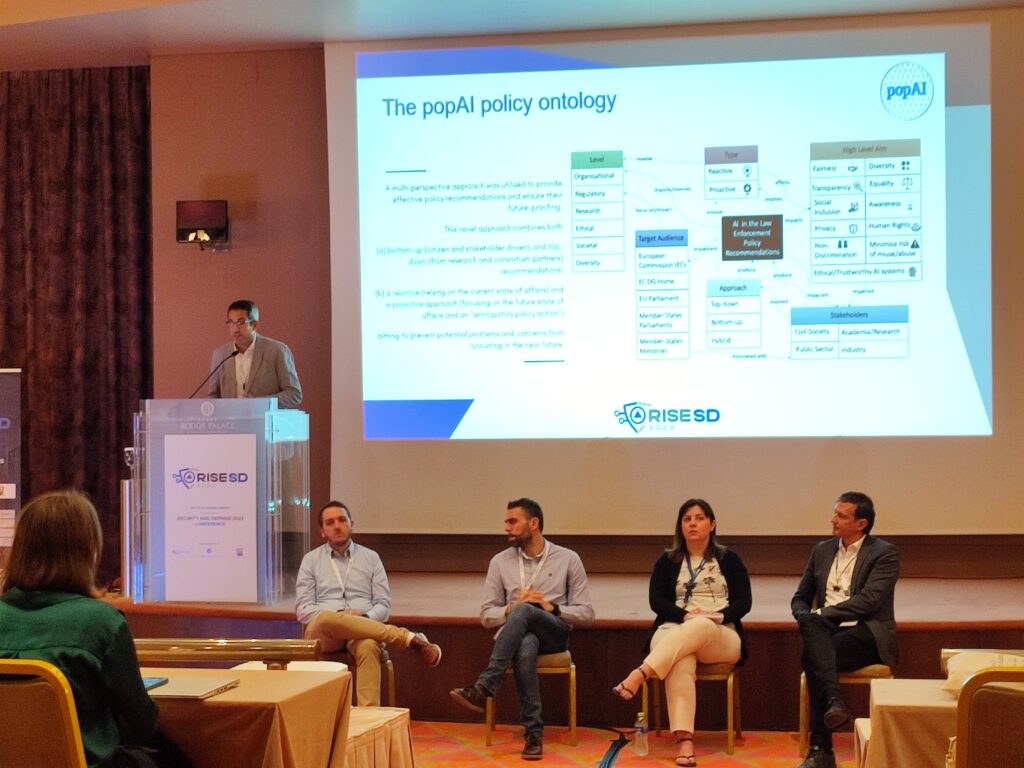 Both of popAI's siblings, ALIGNER and STARLIGHT, participated in the conference, and discussed additional synergies amongst the projects.